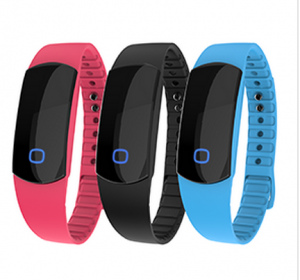 Calling vibration reminder
Easy use and understandinging for both IOS and Android
Pedometer,Calorie,Sleep monitor,Distance,remove camera, Anti-lost,alarm clock
 Cool design,TPU band,comfortable wearing
Sportarmband ActiveFit bracelet for a healthy lifestyle
«Sportarmband ActiveFit» is a multifunctional, sporty, sexy biometric band that is taking activities to a new level. The integrated data sensors not only give you a holistic idea of what your physical activities looks like, but the added items also serve as a watch, sleep pattern monitor, sleep alarm and will deliver notifications. On top of it, as fitness technology aficionados want to be tethered with having automatically transmitted the distance and steps taken as well as the calories burned to an app for evaluating the future exercise regiment, the captured biomedical data can be wirelessly transmitted via Bluetooth to 4.0 smart phones. The highly functional «Sportarmband ActiveFit» armband is powered by a 40 mAh li-polymer battery that can be recharged after 1 week by
plugging it in into a USB port.
As intelligent wearables such as the multifunctional fitness tracker «Sportarmband ActiveFit» help people increase their daily physical activity and hence improve their health, the personalized awesome armband will without doubt be an extremely valuable and unique gift to your customers.
Please fill in your personal details and your special request.